In the last three years, we have almost tripled our business


Jaidah Group has been a recognised force of trade for over 100 years. And, for over 30 years, the heavy equipment division has prided itself on its ability to provide up-to-date products, parts and service solutions, covering transportation, construction machinery and material handling equipment needs, in numerous major projects around Qatar.
We have partnered with Project Qatar as an accessibility partner
Sasol is an international integrated chemicals and energy company that leverages technologies and the expertise of its 30,000 people working in 33 countries.
We will highlight the advantages in owning an MB machine
For over 15 years, MB Crusher (MB) has been a leader in the fields of crushing, demolition and recycling, by designing, producing and selling the first jaw bucket crusher.
Defining Quality Precision
One of the largest and most trusted manufacturer of road construction equipment in India for over four decades, Gujarat Apollo Industries Ltd produces paving and compaction equipment, asphalt and wetmix macadam plants, crushing, screening and recycling plants and other ancillary equipment.
Surging Ahead
of Qatar's long-term social, human, and environmental development, contributing positively to the sustainable development in the country. And widely recognised as the foremost leader in the steel industry is Qatar Steel, formed in 1974 as the first integrated steel plant in the Arabian Gulf, and which went on to be wholly-owned by Industries Qatar in 2003.
13-14 April 2018, Renewx at Hyderabad
17-19 May 2018, Power-Gen India at New Delhi
23-25 May 2018, One Mega Event 3rd Solar India 2018 Expo at New Delhi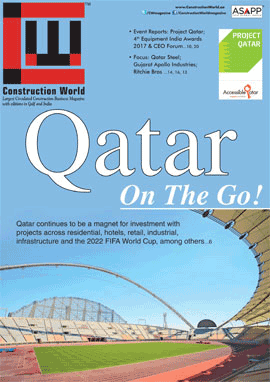 We are proud to have these leading companies as our advertisers...
More...